THE ELIASA CRYSTAL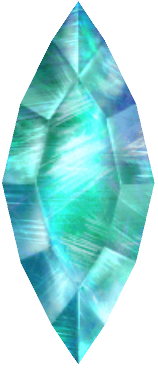 The Crystal was Discovered officially by Eliasa during her excavating common materials for research purposes.
While the crystal itself has been known to us for a great many years the discovery of this particular crystal was never found as a "whole" before.
The Importance of this is that the "control" crystal suggests that that the more commonly known "Slave" version of this crystal was most likely fabricated and grown in a lab for use in variety of different ways.
Through further Study I am hoping unlock the mystery's of this Crystal my next report will be documenting the culture impact this crystal has had on this world.
ELIASA CRYSTAL - New Born Child

Many people from the old kingdom will Remember this old tradition that dates back further than our records record.

It is an old Tale about how a child was Lost and found there way back to there village because of the Eliasa crystal they had worn across there neck.
It is an old tradition that a new born child was giving a Eliasa Crystal cut freshly from near by Eliasa Crystal vine.
The crystal is meant to grant good luck and fortune to those that wear it and even guide them home should they ever become lost.

With the knowledge recently gained it seems that the Slave Crystal will Remember were it is cut from and try it's best to return to this place.

Many have mistaking this attraction as a magnetic field. But dangled from straight piece of string the crystal will point towards it's origin as long as the crystal has been probably balanced.

This fact had caused our ancestors to build there towns and settlements around around an Eliasa root crystal as the cuttings from the crystal would be used inside of a compass as way for people to find a specific town.

In this way the trade between settlements had started with strangely the common substance of Eliasa crystals being wanted by all other settlements as trade routes were established easily.
The idea of Mapping was not needed until the settlements had grew to over 100 different settlements.

By this time Roads had already been introduced along with compass shops scattered throughout the land.
ELIASA CRYSTAL - Shimmering Memory

The Eliasa crystal has also been known to reflect the cutting ritual in it's surface as people are able to see there mothers as the crystal was it was being cut away from the main crystal.

During the ceremony the mother holds her child while she waits for the crystal to be cut. This makes each Eliasa crystal very unique as it will reflect faintly the memory as if the crystal itself was remembering a time when it used to be whole.

Over the years this tradition has not changed and has even evolved to the point were there mothers would talk to the crystal as they would give there future grown up child a loving message.

For this new trend of recording messages that would last for approximately a 15 minute loop recording after the cutting.

People Had started to document a number of different event's using the Eliasa crystal. This caused a world shortage of the Eliasa Crystal as everyone wanted to record what they were doing.

This is the part when the settlements had decided to focus on technology's for them to burrow in to the earth so they could dig up more of the now becoming more rare Eliasa Crystal.



Similar topics
---
Permissions in this forum:
You
cannot
reply to topics in this forum